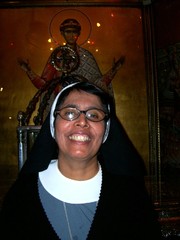 Sister Judith Marie, Superior
 Sister Judith is originally from India. She was raised in the Orthodox Church of India; the ancient Church of St. Thomas the Apostle. Sister Judith is the current superior of the order and has been a sister of ther for twenty-two years. She entered religious life in 1977, and is "extremely grateful to her Savior Jesus Christ for choosing me to be His bride." Her educational background includes a degree in education, and an M.A. in English literature. Sister Judith is also a licensed substance abuse and clinical pastoral counselor. Currently she works full time in the field of chemical dependency and part time as a chaplain. Sister enjoys traveling and visiting people in their time of need.
---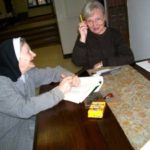 Sister Barbara Louise
 A Chicago native, Sister Barbara was raised in the Jewish tradition. On July 27, 1955 she was baptized into the Christian faith at St. Andrew's chapel in St. James' Cathedral. She states, "this was, is and always will be the greatest event of my life." She attended Roosevelt University receiving her degree in Education. Later sister received an advanced degree at DePaul University in education of the challenged and deaf. Sister Barbara joined the order in 1976. Her many years of teaching include schools on the west side as well as Malcolm X college. Sister currently spends her time writing plays and stories for children which she greatly enjoys. She also volunteers at the DePaul settlement pre-school and especially enjoys the book club at the Church of Ascension.