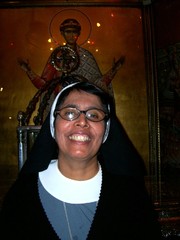 Sister Judith Marie Mandrath, OSA
Sister Judith Marie Mandrath is originally from India. She was raised in the Orthodox Church of India; the ancient Church of St. Thomas the Apostle.
Sister Judith is the current superior of the Order of St. Anne and has been a sister of the Order for thirty years. She came to this House in October 1988 and has been living and working there since then. She entered religious life in 1977, and is extremely grateful to her Savior Jesus Christ for choosing her to be His bride
Sister Judith's educational background includes both B.A and M.A in English Literature, a B .Ed in education and a B.D in Theology. She also holds a Certified Reciprocal Alcohol Drug Counselor License from the Illinois Alcohol and Other Drug Abuse Professional Certification Association and certificates in clinical pastoral counseling. Sister has worked in the substance field as a counselor and clinical supervisor for more than twenty years.
Sister Judith has served as the Executive Director of St. Anne's Home since its opening in 1917.  She also works as part time chaplain at the Swedish Covenant hospital where she has been working since 1990
Her passion is to love God and help people in time of need.  Sister Judith enjoys working in the church of Ascension and praying for the sick, suffering, homeless, people with addiction, as well as for the city of Chicago, nation and the world in general. She likes to travel and spend time with family and friends whenever she can.