Below are the testimonials from people that have visited the convent. If you have a testimonial that you would like to share, please contact us: Submit Testimonial
---
I resided at St. Anne's for six months while studying in Chicago. I had my own furnished room, with a large closet and plenty of bed linens and towels. The shower in the bathroom that I shared with Sister Barbara and one other woman who lived on our floor never ran out of hot water. I had a shelf in the pantry for storing dry goods, and full access to the kitchen, which meant I didn't have to spend on expensive restaurant meals. Mother Judith even invited me several times a month to the delicious dinners she would cook for the Bible study group. Radiators keep the house toasty warm in the winter, and during the summer Mother graciously installed an air conditioner in my room. The convent is absolutely quiet and peaceful, with good WiFi. Residents conveniently have use of a washer and dryer in the basement, and can use the convent's detergent, if desired.

The location couldn't be better: it's a half block from the subway in Old Town, and there are two full grocery stores and a CVS within two blocks of the convent. The north end of the Magnificent Mile is just a 10-minute walk away. I always felt safe in the neighborhood, even after dark.

The sisters are kind, and generous with what they have. They genuinely care about the wellbeing of the residents. Once, when I was sick, Mother Judith appeared at my door with a mug of homemade ginger-lemon tea, and Sister Barbara expressed concern about my cough and dropped throat lozenges in my palm. They strike a good balance: They're never intrusive and they give you privacy, but they're always ready to listen and offer encouragement if you want to spend time with them and talk.

Nathalie Mornu
---
St. Anne''s Convent in the Chicago Sun Times
St. Anne's Convent was featured in the Chicago Sun Times on January 7, 2018.
You can read the article in its entirety here: https://chicago.suntimes.com/news/two-nuns-left-in-near-north-side-convent/
Praying for a sister; Near North nuns likely facing extinction without recruits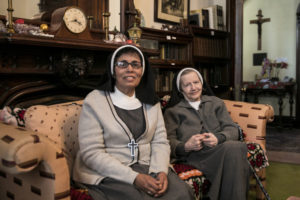 The brick mansion — with its gabled roof, darkened windows and front door plastered with security company decals — looks as if it might be home to a reclusive widow hoping to send a message to would-be burglars.
Above the door, in tarnished gold letters, it reads: "St. Anne's Convent," perhaps hinting at a former life for the three-story Near North building.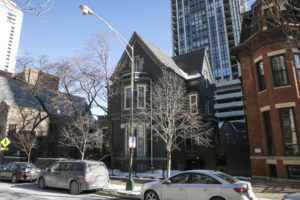 In fact, it remains a convent — barely. The 3,600-square-foot house has a mother superior, who is in charge of just one other nun.
No one knows how long the arrangement might last. Barbara Drell is in her 80s; Judith Mandrath, the mother superior, her 60s. And people aren't exactly knocking down the door to join them. Without any new recruits, the Anglican nun community in the city — always tiny — will likely become extinct.
"Young people — they have difficulty making a commitment, even in their education," says Mandrath on a recent visit. "They don't have a clue how to trust God. Life is about taking risks."
The sisters' predicament reflects a regional and national withering of interest in convent life. In 1965, the nation was home to about 179,000 Catholic nuns; only about 46,000 remain today. In the city, the decline has been even sharper: from about 9,500 to 1,450, according to the Archdiocese of Chicago.
"Is it capitalism? Is it narcissism? Is it consumerism? Who knows? What is it about that life that made it unattractive to young people?" says Michael Patrick Murphy, director of Catholic Studies at Loyola University.
The floors creak as Mandrath, dressed in a charcoal-gray habit, leads the way into a house of sturdy, faded elegance. It's late morning, but the entrance hall is awash in a gray light — barely sufficient to illuminate the mahogany staircase leading to the second-floor chapel. A faint, exotic odor perfumes the air. Mandrath has lived in the convent for 30 years, but she grew up in India and still cooks dishes from her native country weekly.
The convent might as well be in the middle of an Iowa cornfield in winter, such is the absence of noise. In fact, it's on a busy stretch of North LaSalle, in the shadow of drab apartment towers and million-dollar condos.
"We hear the fire engines, but most of the time it's quiet," says Mandrath, who welcomes strangers. "Would you like some tea? Cookies? . . . Chocolate?"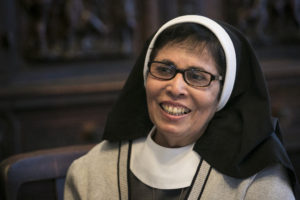 She doesn't appreciate prying inquiries.
"You don't need to know my age," she says, cutting short the question and another one about her youth in India.
It's been particularly quiet here since 2009, when the former mother superior died and two other sisters later retired, leaving just Drell and Mandrath. The Order of St. Anne, founded in 1910 on the East Coast, was never meant to be a large convent. The Chicago chapter has eight bedrooms. There have never been more than six nuns living there, Mandrath says.
"With six sisters, we can share more work. and there are more people to pray and we have more people to do ministry," she says.
That work includes offering prayers in the convent's tiny chapel. It seats a total of 10 people, but most days it's just Mandrath and Drell.
Mandrath also oversees a home on the North Side for women overcoming drug and alcohol addictions. Drell teaches English to low-income immigrants.
Drell, it turns out, has a rebellious streak.
"I had an uncontrollable temper. I still have it. I now know a little bit, with God's help, how to control it," says the withered, gray-haired woman, a bundle of knitting in front of her.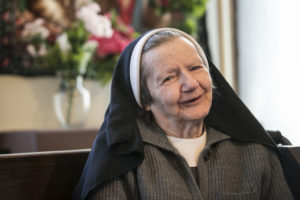 Drell has lived at the convent for 42 years. Her bedroom is small and Spartan, with a crucifix at the head of her sagging bed. There are some religious books, bundles of yarn and a slender wardrobe in which she keeps her habits.
Long ago, she wanted to be a stage actress. As a teenager, she was part of a production of Snow White and the Seven Dwarfs that traveled the country.
"By the time I grew up, something changed in society," she says. "The whole emphasis in plays had a social message." Or the absence of a meaningful one, she says.
Drell still uses theater, she says, to help her students speak English with confidence and oomph.
Mandrath is less forthcoming. But when asked if she has any regrets in life — not choosing, perhaps, to have a family? — she says: "Motherhood is always fulfilled in one way or another. You don't have to give birth to children. You can teach children, you can take care of your brothers and sisters."
Much of the day — as you'd expect — is spent in prayer. But there are distractions. Drell loves to read. Thousands of books — their gold-leafed spines gleaming in the low light — fill the shelves of the convent's library. There are newer books, too — a Michael Jordan autobiography. The former mother superior was a Bulls fan.
Downstairs in the living room, a small flat-screen TV rests atop a 1950s-era Zenith tube TV. Mandrath watches the news. She won't say what she thinks of President Donald Trump.
"The guy in North Korea is crazy," she says of that country's leader, Kim Jong-un.
Drell used to enjoy late-night radio dramas, until Mandrath stepped in.
"I'm glad [she] did because I was really addicted to it, especially the [midnight] stories," Drell says, genuine relief in her voice.
It isn't always just the two of them. Students — all women — needing short-term accommodation, come to stay, paying what they can, Mandrath says. Money also comes from various benefactors and a historic trust set up by the priest who originally brought the order to Chicago almost 100 years ago.
And then there are the occasional visitors — some welcome, some not. The sisters hear many stories of woe. Mandrath says she used to give a little cash to the needy, but she began to feel like she was sometimes being taken for a ride. Now, she offers a prayer or lunch.
"Sometimes people come and ask for food. I say, 'Can you wait? We don't have any ready made food.' By the time I make a sandwich, there is nobody there,'" Mandrath says, with a chuckle.
The sisters had to have a metal gate installed a couple of years ago.
"People were sitting there selling drugs, and some people were knocking on the door at night. So we just closed it," Mandrath says.
But visitors — good or bad — aren't what the sisters need.
A young woman interested in the religious life came from France last summer but she didn't stay.
Four years ago, the bishop of the Episcopal Diocese of Chicago did a title search for the property because the future of the convent is "looming," says Father Patrick Raymond, the rector of the adjoining Church of the Ascension.
The church's name is on the title, Raymond said, adding that he knows of no plans to shut down the convent soon.
Father John Heschle, the rector of St. Paul's Church by-the-Lake in Rogers Park, is the sisters' spiritual counselor.
Heschle says he's prayed every day since 2009 that a woman might show up on the sisters' doorstop and decide to join them. He prays aloud to his congregation, in hopes the message might reach someone.
"I have an indomitable hope and I'm positive that God knows when the next sister will come," he says. "Our job is to discern what God already knows and be patient."
And so they wait.
"We used to worry," Mandrath says, sitting beside Drell on a faded sofa in the living room. "But what is the point of worrying? It doesn't do any good. We are all going to die . . . God brought us together and God is still keeping us together. We are still waiting like Abraham for the promised land. Right, Sister Barbara?"
"Right," she says.